Local Birding Sites: Novato
Deer Island Open Space Preserve

- Jack Gedney, February 2, 2016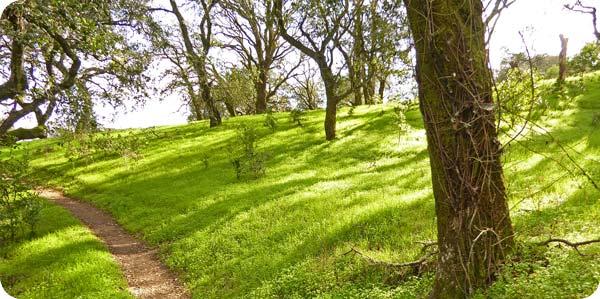 Deer Island is not exactly an island, at least not anymore. These days it is a lightly-used open space preserve in eastern Novato, centered around a hill which rises from the surrounding flatlands which were once part of the Petaluma River delta. One nice thing about Deer Island is its convenient, digestible smallness: a short and level 1.8 mile loop circles the "island," or you can go on a central trip over the top (some 180 ft. in elevation) before returning via the loop trail on either side. (If you go over the top, stay on the clear De Borba trail—there are a few side trails that peter away to dead ends or steep descents. See map from Marin Open Space.) The preserve is mostly covered by mixed oak woodland, but its unique surroundings mean that it also offers views of waterfowl and open country raptors.

For the sake of illustration, we'll describe a clockwise route around the Deer Island Loop Trail, heading left from the entrance. The first short stretch runs parallel to the neighboring storage facility and is the least scenic part of the walk. But once that's out of the way, there's a lot to look forward to. You soon get some views of nearby ponds and surrounding open fields which can attract waterfowl, pelicans, and hawks like harriers or merlins. In general, you won't be very close to the water throughout most of your time at Deer Island—often just at the outer range of bird identification by binoculars. You'll also come fairly soon to a huge multi-trunked "octopus" California bay, with numerous large limbs stretching outward, arching to the ground, and climbing back into the air like so many tentacles. And a little after this, right at the intersection with the De Borba trail which heads up the hill is another favorite tree: a four-trunked buckeye intertwined in the midst of a two-trunked bay. The fresh new leaves of the early awakening buckeyes are always a highlight of early spring.

But on to the birds. At times, some parts of the winter woods may seem quiet, but at other spots you will run into mixed-species flocks that suddenly surround you with a multitude of different birds. One of the most common winter constituents of these flocks are ruby-crowned kinglets, who join resident birds like chestnut-backed chickadees, oak titmice, white-breasted nuthatches, brown creepers, bushtits, and dark-eyed juncos in exploring the oaks for insects and other food. Deer Island has sufficiently dense woods to also host lesser numbers of the more forest-inclined birds in winter, such as golden-crowned kinglets, Townsend's warblers, and hairy woodpeckers. The other very noticeable winter songbird making short insect-catching sallies from the oaks are yellow-rumped warblers, who will often be seen in groups of their own species as well.

Towards the far end of the island from the starting point are some larger ponds, which tend to offer the biggest variety of water birds, though admittedly at some distance. Some common ducks and waterfowl to sight here in winter include northern pintail, bufflehead, ruddy ducks, coots, pied-billed grebes, and Canada geese. Look closely around the pond edges for various egrets and herons, as well as the occasional otter. This part of the preserve is another good place to watch out for raptors: the wide open seasonal wetlands offer good hunting for kites, kestrels, and harriers while also attracting lower numbers of the exciting winter hawks like the huge ferruginous hawk, peregrine falcon, and merlin. On my last two visits in early 2016, an adult golden eagle made a few low elevations turns around this end of island as well.

The last third or so of the loop is on average less densely wooded than the opening stretch and attracts a slightly different group of birds. Some of the oak regulars will still be present, like juncos, titmice, and acorn and Nuttall's woodpeckers. Look on fences and other perches on the increasingly open lower slopes for black phoebes and, in winter, Say's phoebes. The flat lowlands which you eventually enter can host a variety of sparrows in winter, including the ubiquitous white-crowned and golden-crowned sparrows, but also the subtly distinctive Savannah and Lincoln's sparrows. You may often see a flock of dull portly birds take flight from these flat open areas, then be struck by brilliant gold if they turn towards you to reveal their front sides. These are western meadowlarks, who even in winter (when they are most abundant here) can occasionally be heard singing like more musical blackbirds, but with some of the same liquid fluting quality of their relatives.




The "Octopus" Bay


Ruby-crowned Kinglet
Jean-Guy Dellaire


Merlin at Deer Island
Don Bartling


Yellow-rumped Warbler
S. Hunt

There's one other thing to look for as you gaze across the Novato Creek floodplains: us! Careful scanning with binoculars will reveal the back side of the Vintage Oaks shopping center and, while we don't have a prominent sign in back, those in the know—like you—will pick out a small gray door between Extreme Pizza and BevMo and think hey, don't I need some birdseed? From there it's a short walk back to the parking area—and one more short hop to visit us and let us know what you've been seeing!

Directions: From Hwy 101 in Novato, take the exit for Atherton Ave east 1.7 miles. Turn right onto Olive Ave and left onto Deer Island Ln. Gate and small parking area will be on your right.
- Go to the index of Novato birding sites or our Birding Sites Homepage -
Hamilton Wetlands
- Jack Gedney, October 16, 2015
We often praise Marin's system of Open Space Preserves. These areas are what we typically think of when we talk about bird habitat—natural plant and wildlife communities that have been preserved intact among the surrounding matrix of human development. The Hamilton Wetlands, in contrast, have not merely been preserved, but are actually in the process of being re-created. It is unusual—and therefore particularly gratifying—to encounter a huge, expensive, and ambitious feat of engineering whose beneficiaries include plovers and pintail as well as humans.

Working on land formerly occupied by the Hamilton Army Airfield, the restoration has required a huge effort over many years: planning began in 1996; the project was authorized by Congress in 1999; land was transferred, buildings removed, and preliminary decontamination of the site conducted in the early 2000s; millions of cubic yards of dredged material from other parts of the bay were pumped in over years to reverse decades of subsidence; and in 2014 the outer levee keeping out the waters of San Pablo Bay was finally breached. Tens of thousands of native plants have been planted (and plantings continue) and time will continue to shape the land as the plants become established, eventually creating a dense tidal marsh that will provide habitat for rails and other marsh birds while protecting against flooding and sea level rise.


In the meantime, there are birds now! The channels of bay water flood over onto tidal mudflats, which gradually give way to newly planted upland areas running adjacent to patches of native-ish woodland and suburban neighborhood. Public access is available on a 2.7 mile stretch of newly constructed Bay Trail which will eventually connect to Las Gallinas Ponds in San Rafael. While many of the birds in the 650 or so flooded acres are at some distance from the trail (a spotting scope is certainly helpful), there are several areas along the trail where birds can be seen at closer quarters—see the directions below for our tips on the best access points. The bird species seen and their proximity can also be affected by tidal conditions and winter rains, which will flood additional areas.


Tidal mudflats are home to some of our most spectacular and unique birds. The vivid plumage and lively feeding habits of American Avocets and Black-necked Stilts make them easy to recognize and always entertaining to watch. The giant Long-billed Curlew is a wonderful demonstration of the odd extremes to which evolution can take a species, with its tremendous bill adapted to probing the burrows of crabs and other invertebrates. The also formidable Marbled Godwit and smaller dowitchers are similarly adept at mud-probing with their long, straightish bills. These probers can be contrasted with Willets and yellowlegs, which walk and pick their prey primarily from the surface. Equally as spectacular in their own way are the masses of hundreds or thousands of small flocking Least and Western Sandpipers ("peeps") and slightly larger Dunlins. While individually plain in their winter plumage, it is thrilling to watch one of these big flocks of hyperactive feeders suddenly take flight in an undulating mass of hundreds of twisting and turning birds, their calls filling the air


like the vibrating crystal chiming sounds of a handful of pebbles thrown upon and bounding and glissading musically over a wide sheet of ice. (W.H. Hudson, Nature in Downland)


Up a bit from the water and mud, still sparse upland plantings provide a nice mix of cover and foraging areas for a variety of plover species. The common Killdeers, with their loud, strident calls, are joined by their diminutive cousins, the single-breast-banded Semipalmated Plovers, who lurk in small groups among the plants. The larger Black-bellied Plover is inconspicuous in its winter plumage and generally quiet, non-social behavior, but this is definitely the best place in Novato for filling out all of your plover boxes. In the channels and submerged areas, look for ducks such as Northern Shovelers, Northern Pintail, Green-winged Teal, and Mallards.


Naturally, the focus at a massive wetlands restoration is on the waterbirds. But there are other groups of birds that thrive here as well. Both the marsh-to-be and the surrounding uplands host plenty of prey for a variety of hawks: White-tailed Kites hover-hunt for rodents, Peregrine Falcons cause havoc among the shorebirds, and Northern Harriers cruise just above the covering vegetation as they search for both bird and mammal prey. The scrubby edges of the trail provide good sparrow habitat, from the winter-ubiquitous White-crowned and Golden-crowned Sparrows (still singing fairly regularly in mid-October), to the crisply streaked Savannah Sparrow and the smudgy bumpkin of the marshes, the San Pablo subspecies of the Song Sparrow.


The Plan
Brad Evans, PWA-ESA

Long-billed Curlew
Rinus Baak/USFWS

Peregrine Falcon


Don Bartling
You can park either by a ramp near Hangar 6 and 7 or by the playground and ball fields at the end of Hangar Ave. You can find directions at the Hamilton Wetlands Restoration project website. From the Hangar 6/7 ramp, go a few hundred yards left (north) along the trail to quickly reach a channel whose banks attract relatively close birds. From the playground trailhead, you start right at a similar channel terminus which offers good close-up viewing, while following the trail to the right borders a wooded area and ends at a well-placed observation platform. From either location, it is easy to cover much of the 2.7 miles of flat, easy walking—go as far as you like and stop wherever you see something interesting!

- Go to the index of Novato birding sites or our Birding Sites Homepage -
Mount Burdell Open Space Preserve
- David Herlocker, Marin County Parks Naturalist, April 2, 2015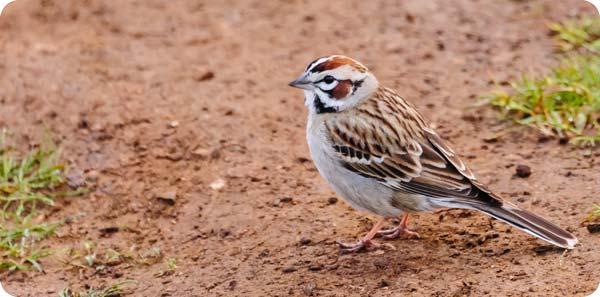 Mount Burdell is a hotspot for Lark Sparrows, one of our most handsome sparrows.
Local photo from Mount Burdell by Larry Scheibel.
Some of the birds described below arrive over the course of April and are easiest to see in May and the following months. April visitors to Mount Burdell will still encounter many of these migrants, as well as singing and nesting resident birds and green hills rich with wildflowers. So visit multiple times! Marin Open Space generally leads wildflower-focused walks on Burdell in April and bird-focused walks in May—check their calendar for upcoming walks.

Mount Burdell is a great place to enjoy nature at any time of the year, but it is particularly rewarding during April and May as the migrants return from their wintering grounds. Mount Burdell lies near the northeastern corner of Marin, where the open grasslands dotted with majestic valley oaks attract some species that are less often encountered in the cooler coastal parts of the county.

To enjoy a great morning bird walk, start at the San Andreas trailhead off of San Marin Dr. As you head north up the fire road, listen and look for blue-gray gnatcatchers as you are serenaded by warbling vireos and orange-crowned warblers. As you crest the hill an enormous meadow comes into view. Scan the road surfaces here for lark sparrows and western bluebirds. The wire fence on the left is a great place to see western kingbirds, but remember to scan the lower wires where you might find grasshopper sparrows. Continue straight toward the huge oaks at the far edge off the meadow which are very popular with Bullock's orioles who weave their pendulous nests in the fresh new leaves. These mature trees are riddled with cavities that provide nesting opportunities for white-breasted nuthatches, western bluebirds, violet green and tree swallows, and a variety of woodpeckers. Expect to hear house wrens – usually more than one will serenade you as you explore this area.

Return to the fire road and head up the hill and you will come to a grove of trees where the Deer Camp fire road and the Middle Burdell roads meet. This area is usually alive with birds, listen closely and you are likely to hear the distinctive song of the lazuli bunting. If you watch for a while, you will be able to figure out the favorite singing perches of these dazzling males as they patrol their territories. You should be able to position yourself for great looks at one of our most beautiful birds.

From this spot, you can go left up toward Joske Grove, passing through more prime lazuli bunting habitat along your way. Ash-throated flycatchers and western wood-peewees are also common along this route. The grove is a great shady retreat where Bullock's orioles and black-headed grosbeaks can be found. If you want a longer walk, try heading up the Middle Burdell fire road to pass Hidden Lake – a gorgeous vernal pool. Then you can loop back across the south facing slope and enjoy one of the best wildflower displays in the county.

Mount Burdell is an open space preserve managed by Marin County Parks. David Herlocker leads bird and nature walks throughout the county open space system, including multiple spring walks on Mount Burdell. Visit the website at marincountyparks.org and you can find maps to all of the preserves (here's a direct link to a printable Mount Burdell map). If you open the events calendar (or the newsletter) you will see that they offer a variety of free outings, including David's upcoming walks at Mount Burdell.

- Go to the index of Novato birding sites or our Birding Sites Homepage -




Mount Burdell has some of the county's finest oak savanna with large, widely spaced valley oaks.


Lazuli Bunting.
Local photo by Larry Scheibel.


Male Bullock's Oriole

Rush Creek Open Space Preserve

- Scott Carey

To get to Rush Creek, exit Highway 101 at Atherton Avenue in Novato, then take an immediate left onto Binford Rd, where there is easy roadside parking. You can also access the far side of the preserve by taking Atherton to Bugeia Ln, turning left and then continuing to the end. There is a gate and street parking where Bahia Ave reaches a dead end at its intersection with Topaz Dr. A full map can be found on Marin Park's website.

Just a mile north of Novato lies Rush Creek Open Space Preserve and the adjacent Petaluma River Marsh Wildlife Area. Birdlife is quite varied here, as bay laurel and oak-covered slopes meet the tidal wetlands and marsh, offering viewing of both landbirds and waterbirds.

Rush Creek Marsh is well known as an excellent location in Marin County to view shorebirds and waterfowl in fall, winter, and spring. Binford Road, which is accessed from Atherton Ave, allows close looks at these birds at the many pullouts along the road. Water levels vary here with higher water in the winter. A spotting scope, though not required, will allow you to scan the opposite shore and find shorebirds and ducks roosting in the pickleweed. Depending on the season, expected shorebirds include Black-necked Stilt, American Avocet, Long-billed Dowitcher, Semipalmated Plover, Killdeer, Marbled Godwit, Western and Least Sandpiper. Great and Snowy Egrets as well as California Gulls are easily seen. White Pelicans often roost here as well.

In winter and early spring, a good variety of waterfowl use the marsh. Northern Pintail, Mallard, Gadwall, American Wigeon, Bufflehead, Ruddy Duck, Lesser Scaup, and Greater Scaup are often in good numbers. Canada Geese winter here as well and some stay to nest. Keep your eyes to the sky here as Peregrine Falcons are often nearby on the hunt for shorebirds. Red-tailed Hawks, Northern Harriers, and White-tailed Kites are frequently seen in the fields adjacent to the marsh. In springtime, the water here attracts the first arriving flocks of swallows from the south. On colder wetter spring days these swallows can be seen sometimes in spectacular numbers—into the thousands. Violet-green, Tree, Rough-winged, Cliff, and Barn Swallows can be seen feeding low to the water on these days. White-throated Swifts are seen within the flocks as well, as several pairs nest in the Highway 101 overpass nearby.

Pinheiro Fire Road (accessed through the Marin Open Space gate at the south end of Binford Road) allows views of Rush Creek and opportunities in springtime to hear and see local nesters such as White-breasted Nuthatch, Dark-eyed Junco, Pacific-Slope Flycatcher, Black Phoebe, Western Kingbird, Ash-throated Flycatcher, Western Bluebird, Lesser Goldfinch, Red-winged Blackbird, Nuttall's woodpeckers, Acorn Woodpecker, Spotted and California Towhee, Orange-crowned Warbler, and Bullock's Oriole. In fall and winter the wintering sparrows such as White-crowned, Golden-crowned, Savannah, and Song Sparrow are abundant in the brush and brambles along the trail. Alternatively, you can enter Rush Creek Preserve from its opposite end, where the gate at the end of Bahia Drive leads to a gently undulating trail through mixed oak-bay-madrone woodland home to many of these same songbird species.

- Go to the index of Novato birding sites or our Birding Sites Homepage -

Northern Pintail

White-tailed Kite

Acorn Woodpecker
Bahia Lagoon, Novato


- Jack Gedney, December 16, 2015





Bordering the Bahia neighborhood in northern Novato, the main area of interest discussed here is the "East Lagoon" or "Horseshoe Pond" found on the right side of this map. Note that public access areas are marked in green; see bottom for more specifics on location and access.

Marin Audubon Society's restoration project at the Bahia wetlands in northern Novato is an underappreciated birding site that escapes many birders' notice due to its small size, out of the way location, and independence from the larger and more well-known systems of parks and open space preserves in the North Bay. While the neighboring tidal areas surrounding the nearby Rush Creek Open Space Preserve host large numbers of ducks and shorebird, Bahia's smaller East Lagoon offers a slightly different habitat, with a non-tidal pond surrounding by open fields with only scattered trees. (Though many young oaks and other plants have been planted in Marin Audubon's ongoing restoration work). This yields a somewhat different mix of species, with the lagoon a special hotspot for some less common local birds.

First the ducks. The stars of the Bahia property are the large flocks of Common Goldeneyes that build up in winter to hundreds of birds. These elegant ducks mix with scaups and their much less numerous cousins the Barrow's Goldeneye. Look closely for the bold white crescents in front of the eyes on the male Barrow's to distinguish them. Other common ducks on the lagoon include Buffleheads, Ruddy Ducks, and Mallards. Bahia is also a good site for mergansers, including both Hooded and Red-breasted Mergansers. You can also expect to see the not-duck American Coots and the diving Pied-billed and Eared Grebes. Neighboring tidal or winter inundated areas host different species such as Northern Pintail, Canvasback, Northern Shovelers, American Wigeon, and Green-winged Teal.

Along the shore, you are likely to see Great and Snowy Egrets, and may see Great Blue Herons and Black-crowned Night-herons nearby. (Visit at sunset to watch for the night-herons as they fly out for their nocturnal hunting sessions and give their distinctive squawks.) If you are lucky, a flock of white pelicans may visit the lagoon: during a vigorous feeding session, Double-crested Cormorants and Ring-billed Gulls may attempt to take advantage of the pelican's fish-herding, as well as the egrets when the frenzy draws near the shore. Greater Yellowlegs, Willet, and Black-necked Stilts are the most frequently encountered birds wading in the shallows, while the exposed banks may host Killdeer or the inconspicuous American Pipit.

Beyond ducks and shorebirds, two other particularly interesting local species are closely tied to the water: the Bonaparte's Gull and the Belted Kingfisher. Bonaparte's Gulls are one of the most distinctive of their family, with a small, agile, tern-like profile and exciting hunting method, diving from the air to grab their prey from under the water surface. Up close, look for a small black dot behind their eye, but even at a distance you can recognize them by their active flight style. The Belted Kingfisher is similarly engaging to watch, hovering and plummeting towards the water when they sight their prey. Multiple kingfishers are regular in the area around the lagoon and it is always a pleasure to see their striking and cartoonishly oversized heads even when simply perching. They can often be heard before they are seen—listen for their distinctive rattle call.

The adjacent grassy fields host Western Meadowlarks, Savannah Sparrows, and Say's Phoebes in winter. The open fields around the lagoon are attractive to a variety of raptors: Northern Harriers, White-tailed Kites, Red-tailed Hawks, and an American Kestrel can usually be found somewhere in the surrounding area with a careful scan of their likely perching spots. Less common winter raptors include visits from Peregrine Falcons or the small but powerful Merlin. At dusk, Barn Owls may be seen cruising low over the fields.

You can see many of these birds in an excellent video produced by Jeffery Martin in association with Marin Audubon Society on their Bahia Wetlands page.




Male Common Goldeneye - Look for the white circle on cheek and white sides with thin black lines


Male Barrow's Goldeneye - Look for the white crescent on cheek and black back with white squares


Belted Kingfisher by Andy Morffew

Male Northern Harrier - Look for distinctive white rump patch and low coursing flight

To reach Bahia, take the Atherton exit off 101 in northern Novato. Travelling east on Atherton, turn left on Bugeia Ln, which turns into Bahia Dr. At the end of Bahia Dr, turn right on Topaz and continue to the end, where you can park near the club house. We recommend a leisurely loop or two around the inside of the horseshoe, or you can walk out and back along the straight peninsula paralleling the PG&E towers. Either walk can be completed in under an hour. Please note the areas of public access indicated on the signs and on the map above: one side of the lagoon is kept off limits to protect wildlife and ensure the success of the ongoing restoration efforts. If you would like to get involved in Marin Audubon's restoration project, volunteer work days are held on the second Saturdays of each month—see their website.
- Go to the index of Novato birding sites -
Indian Tree Open Space Preserve


- Jack Gedney, March 15, 2013


The oak woodland of Mt. Burdell and the marshes of Rush Creek are widely recognized as first rate bird habitat right here in Novato. Indian Tree Open Space Preserve, however, has slipped under the radar of many bird lovers. Hosting a variety of habitats, but dominated by mixed evergreen forest of bay and live oak grading in and out of young redwood and Doug-Fir forest, Indian Tree offers opportunities to see forest birds and plants in an lightly-trafficked refuge right down the road.

Roadside parking is available where Vineyard Road turns from pavement to gravel. Before heading for the trees, look around the open habitat near the road, checking aloft for Tree Swallows, on the power line for Allen's Hummingbirds, and in the coyote bush for quail. As you start down the trail, you'll hear a tumult of finch chatter; the house neighboring the trailhead hosts a multitude of feeders. In addition to the swarms of House Finches and goldfinches, other birds clearly appreciate the seeds on offer: White-breasted Nuthatches lurk in the trees edging the yard, while the blackberry thicket outside of the fence contains a variety of sparrows and towhees.

Moving forward and quickly arriving at a fork, bear left on Big Trees Trail and plunge into the dense canopy of bay and live oak. While milkmaids, buttercups, and shooting stars adorn the beginning of your route, on a cool and foggy morning you may feel like you are exiting the world of spring and sunshine for a more wintry world, as Varied Thrushes quickly fill the trees with their subtle presence and calls of wintering flickers resound through the woods. Winter flocks of mixed species continue to forage together, with Chestnut-backed Chickadees keeping company with Brown Creepers and Golden-crowned Kinglets. This year Varied Thrushes are particularly numerous, and a few hours spent at Indian Tree can yield over 20 sightings, with many of the thrushes concentrated in this lower area near the trailhead. If you'd like to see this beautiful bird this year, go soon; they will be departing for more northerly nesting grounds over the course of the next month.

But spring does penetrate the forest as well. From your entry under the trees, juncos and wrens busily chase invaders of their territories. Nesting crows gather sticks for their nests and summon their mates with loud calls when trespassing squirrels approach their chosen tree. As you climb through the varied habitats of Indian Tree, you can see this spring territoriality repeated across many species: watch a Western Scrub-jay angrily eject a Spotted Towhee from a clump of coyote bush within his dominion, then reenter the woods to see a Steller's Jay chase a Varied Thrush from a stand of California hazelnut.

On a clear and sunny day, enjoy the views of Stafford Lake as you climb the steady switchbacks on the Big Trees trail. Periodic patches of blue and purple accompany you in the trailside hound's tongue and irises. The sunlight also encourages the birds in the enthusiasm of their song. Juncos and titmice are heard quickly and often among the live oaks. As you climb higher through north and west-facing slopes rich in madrone, listen for the trilling song of recently arrived Orange-crowned Warblers, which slows at the end as it changes in pitch. Look also for purple finches feasting on the fresh urn-shaped madrone flowers now starting to bloom and uttering their rising, warbling song from the canopy. Brown Creepers move among the trees, betraying their presence with their high-pitched squeaky songs.

Continuing on Big Trees trail above the junction with the Deer Camp trail (although a brief detour 30 yards down Deer Camp will yield a redwood as big as any you are likely to see on Big Trees proper), notice the appearance of Douglas-Firs and coffeeberry in the understory. Start looking down here as well as up: many newts and the occasional banana slug begin to cross the trail at regular intervals in this part of the park. Further on, you will pass briefly through a patch of manzanita and chamise chaparral; look here for Allen's hummingbirds and the thrilling climbs-and-dives of displaying Anna's hummingbirds. The suddenly expansive views from this hillside patch of chaparral will also regularly reveal the local raptors; in addition to the ubiquitous Turkey Vultures, recent visits have revealed Red-tailed Hawks, Red-shouldered Hawks, and Cooper's Hawks soaring above the trees, all visible from this 40 yard stretch of trail.

As you approach the final ascent, look for pileated woodpeckers in the live oak dominated area of mixed evergreen forest you walk through. After you climb through a final group of redwoods and huckleberry, you will emerge from the trees to meet the Indian Tree Fire Road. Follow the road briefly to the left, then take the side trail that breaks off to your right. In a few hundred yards you will arrive at a few logs placed for your relaxation as you enjoy the view: the slopes of Mt. Burdell tumble down in the foreground, with a panorama of Novato from Rush Creek to Vintage Oaks spreading out beyond.

Indian Tree Open Space is located somewhat near Stafford Lake in Novato. Visit this Google Maps page for directions to the trailhead on Vineyard Road or the Marin County Parks website to download a trail map. The route described above rises gradually about 1200 ft over 3 miles of mostly gently graded switchbacks along the Big Trees Trail; other routes and loops are also possible.

Varied Thrush


Orange-crowned Warbler

Photo by Teddy Llovet


California Newt


Pileated Woodpecker by Joshlaymon (CC BY-SA 3.0)

- Go to the index of Novato birding sites or our Birding Sites Homepage -