Why offer mealworms?

Many birds eat insects as the major part of their natural diet and will rarely or never visit seed feeders. Foremost among these insect-eaters that can be attracted to mealworms are bluebirds (not to be confused with jays), but a variety of other rare feeder visitors may make occasional appearances, including warblers, robins, thrushes, phoebes, and mockingbirds (pictured). Mealworms also appeal to many more common yard birds, including feeder regulars such as chickadees, titmice, scrub-jays, woodpeckers, nuthatches, and orioles. It can be very interesting to watch even common birds eating mealworms as they employ different feeding methods and behaviors than you might be used to seeing at a seed feeder.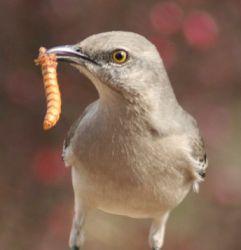 During the nesting season (roughly March through August), mealworms are especially valuable as a source of protein for young nestlings; birds will visit mealworm feeders more frequently during this time of year when they naturally switch to a more insect-heavy diet. Live mealworms also are a valuable, moisture-rich food that helps to provide adequate water to adult and nestling birds during our dry summers.