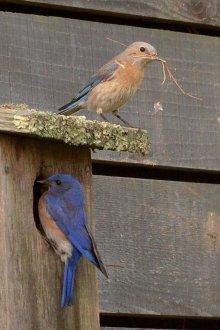 Local photo by Susie Kelly
March Bird of the Month:
Bluebirds
Before you thought of Spring
Except as a Surmise
You see—God bless his suddenness—
A Fellow in the Skies
Of independent Hues
A little weather worn
Inspiriting habiliments
Of Indigo and Brown—
- Emily Dickinson, "The Bluebird"
Bluebirds were a favorite of the 19th century American literary scene; it isn't hard to find praise for them in Dickinson, Thoreau, John Burroughs, and their peers, all of whom found in them Unlike Emily Dickinson, however, we can enjoy bluebirds year-round, rather than as a springtime arrival. Still, March is an important time of year for the Bay Area bluebird lover, since now is the time to put up bluebird houses for your best chance at attracting a nesting pair this season.

Bluebird Basics
- Bluebirds are not related to jays, our other "blue birds". Instead, they are in the large worldwide thrush family, which includes robins and hermit thrushes, all of which eat both insects and fruit.
- There are three species of bluebird across North America: Western, Eastern, and Mountain. Western Bluebirds are our common species in Marin, while Mountain Bluebirds can be found at higher elevations in California.

- Bluebirds are found in open areas, with either scattered mature trees (generally oaks) or nesting boxes needed for breeding habitat. Residential areas dense with houses or dense with trees are not their preferred habitat. Around Novato, bluebirds can easily be seen at several of our local open space preserves, including Mount Burdell, Rush Creek, and around the Bahia Lagoon.
- All bluebirds naturally nest in cavities in trees and will use artificial nest boxes. In some parts of the country, bluebird boxes have been hugely important to populations damaged by tree removal and competition with non-native starlings and English house sparrows.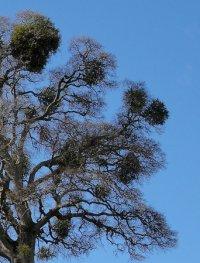 - Bluebirds often raise two and occasionally even three broods in a season.
- Eastern bluebird numbers declined throughout the late 1800s and much of the twentieth century, suffering an almost 90% decline in population. Their numbers began to stabilize during the 1960s and have slowly increased ever since, in significant part thanks to the work of citizen bluebirders putting up appropriate nesting boxes around homes and in "bluebird trails" on larger properties. This hands-on role in fostering bluebird pairs through successful reproduction has led to many experiencing what Julie Zickefoose has described as the "bluebird effect" – a close and personal connection that can radically influence how one relates to birds. Put up a box!
- Western bluebirds populations often also suffered declines in some areas, but overall California populations have not been severely impacted, showing limited declines in some regions in the 80s and early 90s. Marin populations remain healthy.
- Mistletoe, the common clustering plant often seen on Bay Area oaks (pictured to right in a leafless Valley Oak), is a favorite bluebird berry. If you've ever wondered how those clumps of mistletoe got up in those trees, one very possible explanation is that a bluebird took some berries to a new limb and left the sticky seeds behind.
Attracting Bluebirds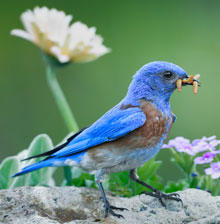 Bluebird with mealworms
local photo by Christine Hansen
- The best way to attract bluebirds is by putting up a nesting box. Make sure to use an appropriately sized box mounted about 4-7 feet above the ground, with a 1 1/2" or 1 9/16" entrance hole. Bluebirds often start their yearly nest construction around March, so get your houses up as soon as possible! Visit us for more information on bluebird houses, or see this page for our tips on attracting nesting birds.
- You are most likely to attract bluebirds if you have nearby open oak savanna, or at least relatively open oak woodland. Bluebirds also frequent the more open landscapes that humans create, such as parks and golf courses.

- Bluebirds may be attracted to feeders offering mealworms, or rarely suet, currants, raisins, or other berries. They will come readily to birdbaths. In general, they don't eat seed.

- Live mealworms are the single most attractive food to bluebirds and are particularly effective when feeding young birds who have hatched nearby. Read more about mealworms.
Enjoy reading this article? Visit our BOTM archive to see more pages like this.