March Nature News

Indian warrior, one of many wildflowers now blooming
January uttered the first pianissimo notes of spring, February's crescendo made the season consistently audible, and March is when the trumpets sing, the cymbals crash, and flowers and birdsong erupt all around us. The hills are green, most all of our deciduous trees are now showing clear signs of life, and a variety of wildflowers can now be found across our varied plant communities. (We've stocked up on both simple folding and book length wildflower guides, if you'd like to know them better.) Insect life begins to pick up, fresh and tender vegetation provides the vitamins, and lengthening days allow just enough time for birds to really move in on the serious responsibilities of parenthood. It's time for the nesting season!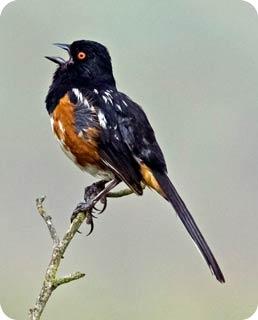 Spotted Towhee - Ed Stetson
March and April are the best months for the "dawn chorus," the morning torrent of birdsong that rises with the sun on each spring day. In your backyard, some of the prominent members of this ensemble might include oak titmice, juncos, Bewick's wrens, spotted towhees, robins, or mockingbirds. Our melodious house finches and goldfinches can be heard singing on sunny days even in winter, but they too will become increasingly audible as we move further into spring. To start getting to grips with our most common bird songs, take a look at our newly revised Spring Birdsong article, completely with lots of helpful tips and carefully chosen audio. If you go out to a diverse native woodland early in the morning, you'll hear an even more varied rendition of the dawn chorus, with purple finches, Hutton's vireos, and arriving orange-crowned warblers adding to the music.
Birds sing as the first stage of the nesting process, seeking to impress both would-be territorial rivals and potential mates with their heath and vigor. With pairs established, birds can move on to the main activities of building a nest, laying eggs, incubating them for a few weeks, and feeding the young in the nest for a few weeks more as they grow rapidly to full size. Some of the earliest nesting songbirds are those that nest in tree cavities or bird houses, including birds like titmice, chickadees, woodpeckers, wrens, and bluebirds. Some of these birds are already establishing nest sites or even beginning nest construction – put up birdhouses as soon as possible to maximize the odds of attracting inhabitants this season. Some house-nesters will be a little later, notably the migrant tree swallows, violet-green swallows, and ash-throated flycatchers, who often commence their nursery preparation in April. Sometimes, various events, weather, competition, or mishaps can delay nesting or prompt a second attempt after an initial setback, so it isn't uncommon for birds of various species to move into houses throughout the next few months. As weather moderates and days warm in the following months, birds that nest in the open rather than in enclosed cavities will also begin to construct their nests: this group includes a wide variety of our backyard birds, including towhees, house finches, goldfinches, and more.
| | |
| --- | --- |
| Tree Swallows - Susie Kelly | Titmice commonly use houses - Risa George |
Spring also means that it's time for migratory birds to get moving. The white-crowned and golden-crowned sparrows that have been abundant throughout the winter will begin to move north towards their breeding grounds, although some will remain with us until April. The winter berry eaters – robins and waxwings – and the winter insect-eaters – kinglets, yellow-rumped warblers, and Townsend's warblers – are also on the move, but can still be easily seen in March. Beyond our yards, the many species of ducks that spend the winter with us will start to head north, including scaup, bufflehead, canvasbacks, and more. Many of these winter birds tend to thin out rather gradually over the next two months, so you still have time to get out there and enjoy them, but don't wait too long – one day soon you'll step outside to a suddenly sparrow-less yard and be constrained to wait until their October return.
Of course, summer has its own birds to greet us with. While many raptors, shorebirds, and ducks spend the winter here, summer is the time for insect-eating birds who arrive from Central and South America for our yearly bug bonanza. Small, rusty-sided Allen's hummingbirds were the first to arrive and can now be seen at feeders or performing their back-and-forth, climb-and-dive display flights. Following these are tree and violet-green swallows, whose numbers continue to increase daily, especially around freshwater ponds. These two swallow species will begin investigating bird houses and other potential nest sites soon after arriving, so make sure you're ready for them – get those houses up ASAP! In local woodlands, pacific-slope flycatchers, orange-crowned warblers, and Wilson's warblers begin to appear over the coming weeks, and immediately begin singing upon arrival. Towards the end of the month, expect to see hooded orioles stopping by at nectar and jelly feeders as they begin their search for suitable palm trees for nesting. These brilliant golden birds (well, the males at least deserve that adjective, the females look like oversized female goldfinches – yellow, but not particularly brilliant) are perhaps our most spectacular yard bird, but need appropriate feeders to see well and regularly – ask us for advice on how to tempt them to spend more time in your yard.
| | |
| --- | --- |
| Violet-green Swallow | Hooded Oriole - Susie Kelly |