Backyard Highights
The next few weeks are your last opportunity to put up a bird house for a decent chance of attracting this year's nesting birds. Later nesting birds like tree swallows, violet-green swallows, or ash-throated flycatchers can start construction in May, as can later nesting individuals of other species.

May is the first major baby month of spring. By the time they leave the nest, baby songbirds are as big as their parents, but look for downy or incomplete plumage and characteristic begging behavior as they follow their parents and demand food (like the chickadees below).

What to offer during the nesting season:

Calcium-enriched suet cakes, suet balls, or Bark Butter
Protein- and moisture-rich mealworms (many birds eat more insects during spring)

Nest-building materials like cotton, yarn, and alpaca wool

Orioles are here! These brilliant golden birds winter in Mexico, then move north for nesting. They are attracted to nectar feeders, jelly feeders, and palm trees for nesting.

Young chickadee being fed Bark Butter - Local photo by Susie Kelly
Low Feeder Activity
At this time of year, it is not uncommon to see a decrease in activity at feeders. One part of this is due to the departure of white-crowned sparrows, golden-crowned sparrows, and some juncos as they undertake their seasonal migration to their breeding grounds. But even among year-round residents we often see fewer visits to feeders as birds take advantage of the abundant natural foods available in spring. Many of these birds align their nesting period to this time of year, when insect food in particular is especially abundant and provides a rich source of protein, essential during the rapid growth of their young. April is perhaps the "peak bug" month and consequently the slowest month of spring as far as feeder activity is concerned, with things gradually livening up in May and following months as young birds fledge and the number of mouths to feed increases. Lesser goldfinches are somewhat of an exception, as their visits to Nyjer feeders in particular will remain intermittent in most yards until September or so.

Violet-Green Swallow Chicks in WBU Box
Local Picture by Christine Hansen
What you can offer: bird houses, mealworms, water
There are some things you can still do to attract birds in spring. The first is the most time sensitive: put up a birdhouse for nesting. Some species have already found their nest sites, but a box put up in early May might still attract tree swallows, violet-green swallows, or ash-throated flycatchers, as well as late-nesting individuals of other species. You could also still put out a platform for shelf-nesting birds like barn swallows, black phoebes, or mourning doves, or hang balls of cottony nesting material for other late-nesters like goldfinches. Another thing you can do is offer mealworms, preferably live. As birds gorge on spring's abundant insect life, a cup of plump, juicy mealworms meet their criteria for a great nesting season food, rich in protein and moisture. Speaking of water: as days become hotter and drier, birdbaths are also increasingly sought out by birds for both drinking and bathing.
Nesting & Babies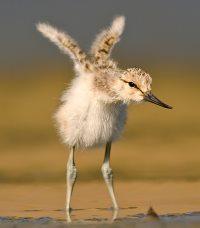 Go soon to see ducklings and young birds of many species, such as this American Avocet chick. Photo by Howler-Cat.

May offers the first major batch of baby songbirds, which lend a great deal of interest to birdwatching in the backyard or beyond. In the yard, look first for young titmice, chickadees, and house finches. For songbirds, their young will be as large as their parents by the time they leave the nest, but you can still recognize them by downy or incomplete patches in their plumage, and by their behavior as they follow their parents and beg for food. May and June are also great months to visit local ponds such as Las Gallinas, Shollenberger, and Ellis Creek: all of these are easy places to see young ducks, geese, and other water birds, which offer a more visible and extended "cute baby" stage than fast-growing, nest-bound baby songbirds. We've already assisted two mallard families in moving their new ducklings from the perilous parking lot in front of the store to the relative safety of the ponds across the street. Other bird species will not hatch young until June or July, most notably the late-nesting goldfinches. Our slightly less common goldfinch, the American goldfinch, has now put on his brilliant summer plumage, making this time of year the best time for clarifying your goldfinch ID:
American Goldfinch (male shown above)

Bigger

In winter, both males and females are a dull, grayish yellow. In summer, males are spectacularly bright.

Orangish feet and beak in summer.

Males have black foreheads in summer, no caps in winter.

White undertail coverts (feathers directly under the base of the tail)


Lesser Goldfinch (male shown above)

Smaller

Male lessers are fairly bright all year round, but never reach the brilliance of Americans.

Dull-colored legs and beak.


Males have a full black cap all year round.


Yellow undertail coverts (Male, female, winter, and summer. Usually.)
Migration Wrap-Up
Pretty much all of our summer birds have now arrived, from the earlier Allen's hummingbirds, orange-crowned warblers, and orioles, to the later lazuli buntings, ash-throated flycatchers, Swainson's thrushes, and others. The most likely to be seen around your neighborhood are Allen's hummingbirds—smaller and with rusty-red sides—and hooded orioles—brilliant golden birds that nest in palm trees and visit feeders for sugar water or jelly. You may also see our several swallow species busily catching insects on the wing: check this month's Bird of the Month for a guide to identifying them. Meanwhile, the last of our winter sparrows will leave this month, so bid farewell to the white-crowns and golden-crowns until late September.

Hooded Oriole - Local photo by Christine Hansen

Want to get an introduction to our spring arrivals and bid farewell to the last lingering winter birds? Take a look at last month's April Nature News.