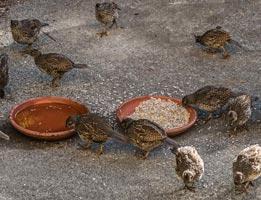 Young quail can still be seen in August
Local photo by Susie Kelly
August Nature News
The later part of summer is, numerically speaking, a time of great bird abundance, with the new generation of birds recently fledged and as yet largely unculled by the natural trials of migration, predation, and seasonal food scarcity. Right now, there are lots of birds out there! At the same time, however, fairly plentiful natural food, movements of dispersing or migratory species, and relatively quiet behavior compared to the breeding season's hullabaloo can sometimes mask the overall high number of birds and make for an impression of surface quietude.
The nesting season trails off in August, with some species still involved in a late-summer coda with second or even third broods of young: if you see young titmice, chickadees, juncos, or house finches at this time of year, for instance, they are probably the parents' second round of young, having already hatched and raised a first generation earlier in spring. Even later-nesting birds like goldfinches and quail have pretty much had their babies by the end of July, though you may still see recognizably young birds around through August, particularly with "precocial" birds like quail or ducks that are not bound to a nest for weeks like most songbirds and so have a longer period of visible childhood. Visit local ponds like Las Gallinas as soon as possible to see the babies from our limited selection of summer waterfowl like mallards, pied-billed grebes, and common gallinules.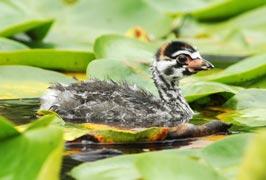 Pied-billed grebe chick by Minette Layne
But despite the current abundance of birds, your backyard may seem much quieter than a few months ago. In early spring, many birds would spend a lot of time and energy in singing to advertise their fitness to potential mates and rivals. In the following months, you might have often heard the sound of constantly begging young birds competing for their share of their parents' attention. Now these young birds can feed themselves and have learned that excessive noisiness is a dangerous habit. So in comparison to, say, April, August can seem relatively silent. And not only do birds get audibly quieter, some also get visually quieter as they transition out of their breeding plumage and into duller winter garb. Among backyard birds this is most striking in American goldfinches, which are now molting out of their highlighter yellow summer coats and into their gray-yellow winter apparel.
| | |
| --- | --- |
| In summer, American Goldfinches look like this... | ...soon they'll look like this |
At feeders, activity overall tends to be fairly high with all those new mouths to feed, but local movements can affect this. For example, some migratory birds like hooded orioles and black-headed grosbeaks may start wandering around after completing nesting, though they can still be found in our latitude throughout August. Non-migratory birds also practice this form of movement, known as "dispersal," in which they leave the nesting territory to which they have been tightly bound for the past few months. So you may find that your local nesters may suddenly disappear - or you might see unfamiliar birds passing through.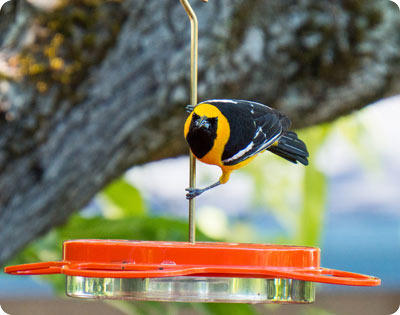 Orioles may pass by in August before their final exit to Mexico in September. Photo by Katie Houck.
As August wanes, some birds will break up their family groups and kick out the kids, reducing the number of say, jays, titmice, and towhees which you see in your yard. Other species, like goldfinches and quail, will conglomerate into larger flocks for the winter. While most birds associate in pairs and then family groups during the months of the nesting season, behavior diverges among species as we move into fall and the breeding impetus fades away: some birds are loners, some maintain year-round pair bonds, some join large flocks of their own kind, and others roam in multi-species groups. Different birds behave differently!
This month also witnesses a marked increase in migratory activity. July was the first major month of shorebird movement, which continues to ramp up in August and September. This late summer period will see large numbers of western and least sandpipers, dunlins, godwits, curlews, whimbrels, yellowlegs, willets, and dowitchers feeding on tidal mudflats around the Bay Area. Places like Rush Creek and the Bay Trail at Hamilton are great places to see these birds right here in Novato. In your own yard, August will see the first movements of migratory songbirds, as discussed above, with orioles, grosbeaks, buntings, flycatchers, and tanagers leaving their nesting territories and then gradually heading south. Many of our summer birds are insect-eaters who head south for the colder months when insect prey is scarcer; starting in September they will begin to be replaced by our winter songbirds, including many notable seed-eaters such as white-crowned and golden-crowned sparrows.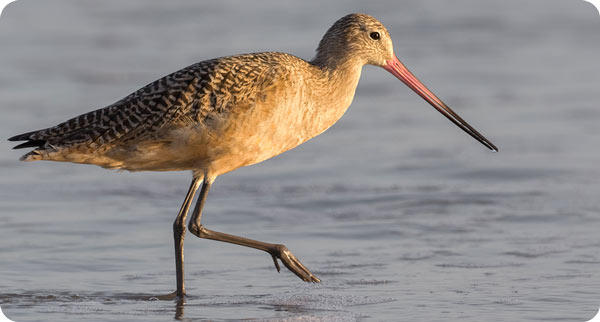 Marbled Godwits are one of our largest shorebirds - Photo by Ingrid Taylar
Want to hear more about late summer nesting and early migrants? Rewind to our July Nature News.