October Nature News
Bird diversity increases in the winter. This is sometimes under-recognized by new observers of the natural world, with an understandable expectation that spring and summer are the seasons of abundance and that fall and winter will be comparatively quiet. But in a mild climate like ours, where much plant and insect activity continues throughout the winter months, and given our geographical proximity to the ocean, the bay, and other food-rich bodies of water, winter presents an abundance of opportunity for birds that breed to the north or at higher elevations. It is true that some birds will continue on to the south—meaning that right now is more or less the time of peak bird diversity with transient migrants now passing through and adding their numbers to our growing populations of winter residents.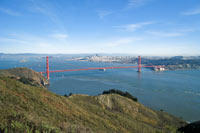 The view from Hawk Hill
Migrating birds can be seen all over the place, with many birders heading to coastal hotspots to look for migrant warblers and other songbirds. Two easily observed and particularly notable events of fall migration deserve special mention. First is the raptor migration as viewed from Hawk Hill in the Marin Headlands. Perched above the Golden Gate and San Francisco Bay, this is one of the most scenic hawk watch locations in the world, and right now is the peak of the migration season. You can expect to see over ten species of raptor and several hundred sightings in a full day on the hill at this time of year. See our full profile of Hawk Hill or visit the Golden Gate Raptor Observatory's Daily Hawk Count blog for the latest reports. Our second fall migration highlight is watching the Vaux's swifts at the McNear Brickyard in San Rafael. Visit at sunset to watch thousands (sometimes tens of thousands) of swifts funnel into the unused chimneys where they roost for the night on their journey southward. Both hawk and swift migration are peaking now and will decline in volume after the first few weeks of October, so visit soon for the full spectacle.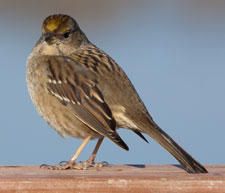 Golden-crowned Sparrow
We are also starting to see the evidence of fall migration right in our own yards. Our few summer yard birds like Allen's hummingbirds and hooded orioles have now departed. But our most abundant winter yard birds, the white-crowned and golden-crowned sparrows are now being widely reported. Learn what they look like, how to recognize their distinctive early-fall songs, and how to attract them in this month's Bird of the Month article on our winter sparrows. The two crowned sparrows are also joined in lower numbers by white-throated sparrows, fox sparrows, and—around wetlands particularly—Lincoln's sparrows and increased numbers of song sparrows. If you have any of these species in your yard (and almost everyone will see the white-crowned and golden-crowned sparrows), you can easily attract them to feeders with seed, suet, or mealworms. Another thing worth noting at your seed feeders is the increased activity of goldfinches: although present all-year round, these birds tend to visit both Nyjer and sunflower chip feeders with much greater frequency in winter.
| | |
| --- | --- |
| Adult White-crowned Sparrow | First Winter White-crowned Sparrow |
Cedar Waxwings eating toyon berries
Local photo by Susie Kelly
October will also see the arrival of a number of primarily fruit- and insect-eating birds in our yards and neighborhoods. American robins and cedar waxwings will soon gather into flocks that traverse both local woodlands and residential neighborhoods looking for berry-bearing trees. In native habitats, these might include madrone or toyon; some popular ornamentals include pyracantha and Chinese pistache. The shy and plain hermit thrush also disperses from forested breeding grounds and quietly infiltrates many neighborhoods to eat berries and insects as well.
Two bug-eaters that can sometimes be attracted to feeders are our two winter warbler species, the yellow-rumped warbler and the Townsend's warbler. These two birds mostly hunt wild insects, but will eat mealworms and occasionally visit feeders for suet or shelled sunflower. A third, inconspicuous winter bug-eater, the ruby-crowned kinglet, will also occasionally visit suet feeders. Suet, if you don't know, is beef fat, usually mixed with ground nuts or grains and available in a variety of standard shapes (cakes, cylinders, balls). In addition to being a no-mess food, suet is also easily defended against squirrels and rodents by using hot pepper versions that deter taste-sensitive mammals. You can offer this food all year-round to attract resident birds like chickadees, titmice, and woodpeckers, but the addition of these new winter birds (as well as the abundant crowned sparrows) make suet feeding even more interesting from October onwards.
Townsend's warbler
Local photo by Theresa Fisher
For many birders, winter is eagerly awaited for its abundance of both shorebirds and waterfowl. Shorebird migration has already been underway for some months, but October is when many duck species start becoming much more numerous. Watching ducks at easily accessible spots like Las Gallinas Ponds in San Rafael or Shollenberger Park and the neighboring Ellis Creek Ponds in Petaluma is a great way to ease into birdwatching, with many easily seen and distinctive species, including American wigeon, gadwall, northern pintail, green-winged teal, lesser and greater scaup, ruddy duck, and goldeneye. These locations are particularly good for seeing birds up close; Novato's Rush Creek Open Space Preserve and Hamilton Wetlands offer wider expanses of water and mudflats that welcome both ducks and shorebirds.