Fall on Big Rock Ridge
- Jack Gedney, September 2017
Big Rock Ridge is the dominant topographical feature of Northeast Marin, dividing Novato's Ignacio Valley from San Rafael's Lucas Valley. At 1,895 ft, its highest hill is the second highest point in Marin. Step outside the doors of our store and you'll see its familiar towers. Or stay inside, buy some birdseed, and look at the mural behind the register—they're on there too. High ridges like these certainly have their scenic value, but they offer more gifts to those who climb: 360-degree views, breathing room above the lowland hubbub, and opportunities to witness bird migration as it happens.
Parts of Big Rock Ridge are included in the neighboring Lucas Valley, Ignacio Valley, Loma Verde, and Pacheco Valley Marin County Open Space Preserves, as well as land owned by Marinwood Open Space and private land with easements granted for public access on trails. There's a lot of area! In fact, the trail continue to the south over Loma Alta and through a network of public lands all the way to the Golden Gate on the Bay Area Ridge Trail network. Currently, the northern extent of continuous Ridge Trail is reached near the top of Big Rock Ridge, with a gap then existing before the trail resumes in Novato's Indian Tree Open Space Preserve (really still part of Big Rock Ridge—check it out on Google Earth, it's fun) and continues up and over Mount Burdell on its way to Sonoma.
For our current purposes, we're discussing the main fire road that runs roughly west-to-east along the top of the ridge, accessible from various points both to north and south. Almost all of these trails which climb the sides of the ridge are steep, as is the trail along the ridgeline as it ascends and descends each of several successive peaks. It is difficult to construct any loops along the ridge, so your options are either an out-and-back from any of the various trailheads or a point-to-point hike if you can arrange a drop-off or car shuttle of some kind. That's fun. The natural starting point is from the Big Rock on Lucas Valley Road about 5.5 miles west of Highway 101. This obvious landmark marks the trailhead that ascends the western end of the publically accessible ridge, near the summit, though this trail is largely well-graded with moderate switchbacks compared to the steep ups and downs you will find along the ridgeline itself.
Let's get to the birds. From the Lucas Valley/Big Rock trailhead, you will find yourself in grassland dotted with coyote bush on the lower and gentler southern slopes of the ridge. (Directly across the road is the Loma Alta Fire Road heading south, which we've described elsewhere.) These grasslands provide good habitat for American kestrels, small, swift, and colorful falcons which you may see pause and hover in the air as they search for small rodents. In summer, a variety of swallow species will take the lead in aerial insect-catching duty, including cliff, barn, and tree swallows. Flycatching western bluebirds are joined in winter by Say's phoebes along fence lines or whatever natural perches are available in this relatively open habitat. The patches of coyote bush provide cover in fall for the arriving white-crowned and golden-crowned sparrows, whose songs are a highlight of the generally quieter October soundtrack.
As you climb past groves of live oaks, take your time to look for more songbirds. Year-round resident chestnut-backed chickadees, oak titmice, and Bewick's wrens are joined in fall by yellow-rumped warblers, Townsend's warblers, and subtle ruby-crowned kinglets. The oaks provide an abundance of food, from the thin and pointy acorns which mature in fall, to the many insect species which find a home in their foliage. You may hear the resounding echo of a northern flicker before seeing the bursts of its distinctive red-shafted wings as it flies to a new perch , or a flutter of wings as a dozen Band-tailed Pigeons take flight from an oak to wheel in a swift circle or two before resettling in another tree. Both of these birds are year-round residents in Marin whose numbers swell in winter with the arrival of migrants from more northerly areas. More densely wooded patches near creek beds host both loud and striking Steller's jays and quiet and discrete hermit thrushes, another bird that, while present year-round in the county, disperses to a greater variety of habitats in winter.
Fall Migration
Perhaps my favorite time to visit the ridge is in fall, from late September through October. All seasons have their highlights: spring's wildflowers and wide green slopes, summer's wealth of dragonflies and butterflies, winter's manzanita flowers and fruits of madrone and toyon. But fall is when the spectacle of migration is best observed as daytime migrants like swifts, swallows, and hawks ride the wind over the ridge while night-migrating songbirds stop in the woods to feed and recharge during the day.
As you approach the ridgeline, migration becomes an observable phenomenon. Small squadrons of Mexico-bound violet-green swallows and related species course southeast above the ridge, occasionally turning in small, swooping circles to catch an insect or recalibrate their position in the group. Our other speedy and indefatigable flyers, the swifts, also pass through in fall, both Vaux's swifts and white-throated swifts. (Visit McNear's Brickyard in San Rafael in late September to see thousands of Vaux's swifts entered the unused chimneys at sunset for their nightly rest.) Fall is also the season for hawk migration: you'll see some birds heading more or less determinedly south, while many other raptors will be seen hunting on the wing. Red-tailed hawks, kestrels, and Cooper's hawks can be seen all year-round, but both abundance and variety increases in fall with the arrival of sharp-shinned hawks, northern harriers, and merlins on migration.
Beyond the Peak
The nearly 1900 ft. high point is marked by those distantly familiar towers, but the climbing is not over for those who wish to continue. The ridgeline fire road is perhaps more strenuous than the ascent: with the option for switchbacks removed, it dives directly up and down the undulating ridge in a series of only gradually shrinking hills as you move east towards Highway 101. The third hill (in a series of 1895', 1725', 1640') offers perhaps even better views than the higher point, unobstructed by towers and offering a more or less complete 360-degree view, along with some convenient rocks to perch on and pretend you are a golden eagle as you eat a snack and feel like you can see everything. Beyond this hill, the trail gradually becomes more shaded, moving into mixed woodland of black and live oak, madrone and bay. These woods are similar in character to those at Olompali or Indian Valley, with a nice mature forest hosting a variety of woodland birds, including the giant pileated woodpeckers and summer specialties like orange-crowned warblers, ash-throated flycatchers, and blue-gray gnatcatchers in abundance. Due perhaps to the ridge's topographical inescapability, these woods can be particularly full of migrating songbirds if you hit them on a good day in spring or fall: perhaps a locally less common bird like a black-headed grosbeak, western tanager, or black-throated gray warbler will cross your path.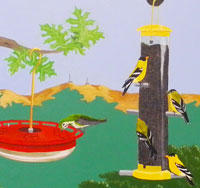 Towers on Big Rock Ridge, as symbolically represented on our mural by Faith Rumm.