Vintage Oaks at Novato
Novato, CA 94945
Between Sports Basement and Pier 1

(415) 893-0500
Open Today Until 6:00 pm
| | |
| --- | --- |
| Monday | 10:00 am - 6:00 pm |
| Tuesday | 10:00 am - 6:00 pm |
| Wednesday | 10:00 am - 6:00 pm |
| Thursday | 10:00 am - 6:00 pm |
| Friday | 10:00 am - 6:00 pm |
| Saturday | 10:00 am - 6:00 pm |
| Sunday | 11:00 am - 5:00 pm |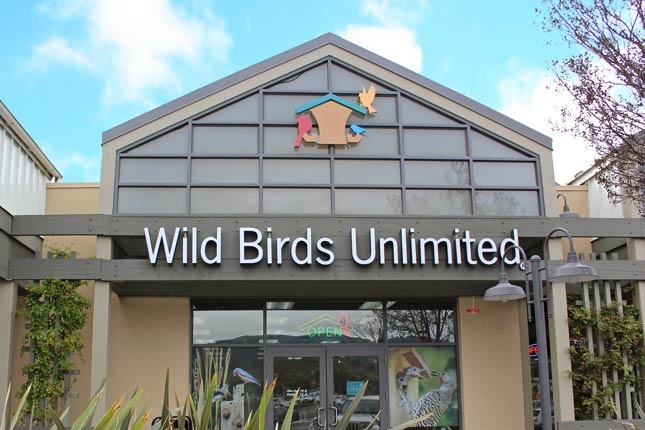 Michael & Jack Gedney, Shih-Po Hsu Franchise Store Owners
View Our Store Site
Upcoming Events
Each month we host free local bird walks and talks on natural history subjects in our Novato store. See the list below for details and sign-up, or visit our Nature in Novato blog for our full listing of current nature walks and other events hosted by ourselves and other local organizations.
Seminar: Birding in Northeast Marin
July 29, 2018 @ 10:00 am to 10:45 am at Wild Birds Unlimited
In this in-store talk, we'll provide a broad overview of the birds our home territory has to offer, interspersed with myriad little tips of astoundingly helpful specificity. Whether you're a neophyte or long-time birder, this presentation will give you insights into our local birdlife that you can't get anywhere else. We'll cover topics like:
How many birds can you see in Novato and San Rafael? What are our local patterns of seasonal migration - when do different groups of birds arrive and depart?
What different habitat types do we have in our area? Learning how to recognize different plant communities and wetland types is the key to understanding why certain birds are found only in certain areas. Which local preserves host which communities of birds, plants, and other wildlife?
What are the specialty birds of our different parks and open space preserves and when and how can you find them? (For example, if you would like to see a Barrow's Goldeneye, Rufous-crowned Sparrow, Black-throated Gray Warbler, or Lazuli Bunting, where should you go?)
So if you'd like to see more birds in your everyday life, discover under-the-radar local hotspots, or better understand the place where you live, this is the talk for you! To reserve your space at this free 45 minute in-store talk, visit the event page now.
---