104 Vintage Way, Suite A-7
Novato, CA 94945
Next to Sports Basement and BevMo

(415) 893-0500
Serving You Today Until 5:00 pm
| | |
| --- | --- |
| Monday | 10:00 am - 5:00 pm |
| Tuesday | 10:00 am - 5:00 pm |
| Wednesday | 10:00 am - 5:00 pm |
| Thursday | 10:00 am - 5:00 pm |
| Friday | 10:00 am - 5:00 pm |
| Saturday | 10:00 am - 5:00 pm |
| Sunday | 11:00 am - 5:00 pm |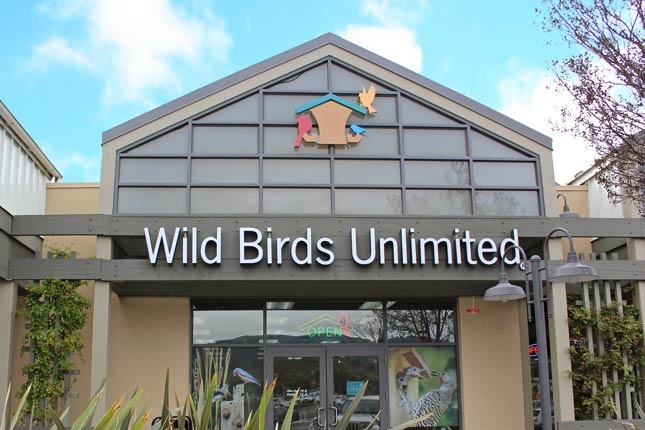 Michael & Jack Gedney, Shih-Po Hsu Franchise Store Owners
View Our Store Site
Now Open for In-Store Shopping
Our current business hours are Monday–Saturday from 10–5 and Sunday 11-5.
For bird food and feeder orders, we encourage you to visit our online store to place your order in advance for curbside pickup or home delivery. You can also call us at (415) 893-0500 to order or with any questions.
Siskins, Salmonella, and Safe Bird Feeding
A number of news and social media outlets have reported about salmonellosis among siskins and other finches this winter. As of April, the wintering pine siskins are now on their way north and the outbreak is waning. By the end of April, siskin numbers will have receded to our much smaller population of resident birds and sightings of sick birds should return to a normal, rare level. If you took your feeders down as a precaution and are not seeing any sick birds, it is generally safe to put them back up now, but continue to watch out for sick birds through the end of April. For our full take on this winter's situation, see Jack's IJ column or our Feeding Birds Safely page. A few frequently asked questions:
Why is this happening? Is it caused by bird feeders?
We see increased rates of salmonellosis in "irruptive" winters of pine siskins (a small streaky finch with yellow highlights in the wings and tail), birds that live mostly to the north, but periodically come down south in large numbers during winters of low food availability. This is a natural migration cycle, but unfortunately siskins are uniquely vulnerable to sickness from salmonella bacteria, which they can pick up from contact with other birds, livestock, or contaminated food or water. Bird feeders are not the cause of the sickness, but if a large number of siskins are concentrated in a small area, especially if there are surfaces that can accumulate contaminated droppings, transmission could be increased.
What should I do if I see sick or dead birds?
The Cornell Lab of Ornithology recommends taking down seed feeders for a week or more to allow the infected birds to disperse and reduce crowding. Feeders that the vulnerable siskins and goldfinches do not use (hummingbird feeders, suet and nut feeders, cracked corn or millet feeders for ground-feeding birds) can continue to be used. Clean feeders thoroughly, ideally with a 10% bleach solution, before re-hanging. Unfortunately, by the time birds are sick enough to be captured (the late stages of sickness usually appear as lethargy and non-responsiveness to human approach), their odds of survival are very low and there is usually little that can be done to save the individual birds.
For more information, feel free to download or share Jack's column on Siskins, Salmonella, and Safe Bird Feeding, or our one-page summary of scientific advice.
---