Our Sustainability Commitment
Our Mission and Our Products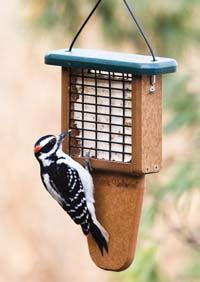 Made in the USA from recycled milk cartons; lifetime warranty. Read more about our Better Birdfeeders.
Reducing waste and operational inefficiencies as we describe below is good and necessary, but even more important to us is knowing that the actual substance of our work and services is consistent with a bigger picture sustainability. The core activity we assist and encourage is the enjoyment of local birds and wildlife, an inherently place-based and low-impact source of pleasure and learning. We do this through the sale of products that support this goal, expert advice in their use, and purely educational writing, guided walks, and presentations about local nature topics.
The main products we sell are tools that increase the ability to enjoy birds around our homes. We place a very high value on durability, cleanability, and repairability to ensure that the products we sell provide many years of use rather than adding to a wasteful cycle of disposable goods. The great majority of the feeders and binoculars we sell come with a lifetime warranty and are made to require little maintenance and to be easy to repair in the case of exceptional damage. If you purchased a birdfeeder or binocular from us that needs repair, bring it in: we will take care of it. We also carry many products manufactured domestically and using recycled materials to reduce energy, material, and transportation footprints.
Birdfeeders

Aspects: all products made in Rhode Island and covered by lifetime warranty.
Backyard Nature Products: lifetime warrantied recycled plastic birdfeeders made in WI
Brome Birdcare: the most long-lasting squirrel-proof feeders available, lifetime warranty on all.
Droll Yankees: Durable birdfeeders with lifetime warranty against squirrel damage, Plainfield, CT.

Erva: feeders and hardware manufactured in Chicago, IL using fully-galvanized automotive-grade steel. Bulletproof!
Garden Artworks: Feeders and birdhouses constructed in Oregon of long-lasting western redcedar.
Woodlink: Cedar and recycled plastic feeders and houses made in Mount Ayr, IA.

Optics:

The following manufacturers provide a minimum 20 year warranty on their products.

Carl Zeiss
Eagle Optics

Nikon
Opticron
Swarovski Optik
Vanguard Optics
Vortex Optics
---
While some types of goods require large scale production, as a locally-owned small business, we also strongly believe that many items can be made on a smaller scale with benefits in the quality and personal attention given to production, a more interesting variety and personal quality in design, and generally beneficial social effects from having many smaller craftspeople rather than a few large corporations in a given field. We therefore seek out local, domestic, and international Fair Trade crafts in our product selection.
Local Suppliers
Florence & New Italian Birdbaths, Hayward
Sapphire Labs, Brentwood

Bird vs. Bird Designs, Oakland
Hungry Owl Project, Novato
Local Artists

S. Hunt, Novato
Susie Kelly, San Rafael
Angela Casey, San Rafael
Roger Hooper, San Rafael
Tom Killion, Inverness Park
Rigel Stuhmiller, Berkeley
Jeannine Chappell, El Cerrito

US Crafts

Z Garden Party, Merced, CA
Jacob's Chimes, Long Beach, CA
Nestled Pines Woodworking, WI
Paul's Metal Petals, MN
Modern Moose Clocks, MA
Timber Bay Garden Art, ME
Steve Day, PA

Fair Trade Crafts

Beaded ornaments, Guatemala
Oil drum artwork, Haiti
Gourd art, Peru
Tagua ornaments, Ecuador
Seedpod birds, Tanzania
Bird totas, India

Energy

The largest environmental (and humanitarian) crisis today is that of climate change, primarily caused by the combustion of fossil fuels. We have worked to directly reduce our carbon footprint by increasing our energy efficiency through complete conversion to LED lighting and the use of the most efficient available Energy Star-rated electronics and appliances, timers and motion sensors for lighting, and a programmable thermostat. Through these steps, we have succesfully lowered our electricity consumption each year since we opened, with an approximate 40% reduction from our first year of business in 2010-11. We particularly encourage small businesses in Marin and the East Bay to take advantage of the free SmartLights program, which provides rebates and assistance to businesses looking to upgrade to more efficient lighting.

We are also proud participants in Marin Clean Energy's Local Sol program, with 100% of our electricity needs met by production from Novato's Cooley Quarry solar farm.

Waste & Other Operations

As a certified Bay Area Green Business, we have undertaken a thorough suite of actions to reduce waste and avoidable chemical use in our business operations. We use 100% PCW recycled copy paper, paper towels, and bathroom tissue and accomplish most basic cleaning and maintenance with reusable cloths, water, and low-toxicity cleaning products. All of these steps can be done with minimal or negative financial cost and we encourage you to adopt similar practices for your home or business. We also vigorously recycle and reuse materials, including making good condition boxes and packaging material available to our customers for reuse.