Shollenberger Park
- Scott Carey, June 15, 2013
In Sonoma County, Bodega Bay is well known for its excellent birding for wintering waterfowl, gulls, shorebirds and other wetland birds. Only Shollenberger Park rivals it if not in number of birds but in diversity. Shollenberger Park, which older birdwatchers know as the Cader Lane Ponds, is a special place for local birdwatching enthusiasts. The park's main attraction for birds and bird watchers is the large impoundment or pond. Due to its location nearby the tidal Petaluma River, many birds use the pond to loaf out the hours during high tide, feed, spend the winter months, or breed here. Birding here any month of the year is good, but the best time is in the fall and winter months. Year round birds to see here are the American Avocet, Black-necked Stilt, Snowy Egret, Great Egret, Mallard, Ruddy Duck, Northern Shoveler, White Pelican, Mute Swan (introduced species), Canada Goose, Red-winged Blackbird, Great-tailed Grackle, Marsh Wren, and Song Sparrow. It is in the fall though that bird activity here really gets ramped up. Shorebirds (in the hundreds, sometimes thousands) will use the pond and mudflats for feeding and resting as they journey south.
Western Sandpipers, Least Sandpipers, Whimbrel, Long-billed Curlew, Semipalmated Plover, Marbled Godwits, Greater and Lesser Yellowlegs, Long-billed Dowitchers, Black-bellied Plovers, Red-necked Phalaropes, and Wilson's Phalaropes are some of the main shorebirds that use this park. As fall turns to winter some shorebirds stay and wintering waterfowl and gulls join them. It's very easy to see both Lesser and Greater Scaup, Northern Pintail, American Wigeon, Bufflehead, Green-winged Teal, Canvasback, Horned Grebe, Eared Grebe, Western Grebe, Pied-billed Grebe, American Coot, and others. Raptor viewing here is best in winter with Red-tailed Hawk, Red-shouldered Hawk, White-tailed Kite, Northern Harrier, and American Kestrel seen in nearby fields hunting. Occasionally a Peregrine Falcon will strafe the shorebird flocks. Winter is also the time to inspect the large gull flocks for an unusual or rare gull. Western, Glaucous-winged, Ring-billed, and California Gulls are here in large numbers and ages, so it's a great place to learn them, then look for the less common Herring, Bonaparte's, Thayer's, or Glaucous Gulls.
Over the years some rare birds have spent time here during migration. White-faced Ibis, Pectoral Sandpiper, Sharp-tailed Sandpiper, Semipalmated Sandpiper, Tufted Duck, American Golden Plover, Pacific Golden Plover, Clay-colored Sparrow, Glaucous Gull are a few recent examples.
Binoculars will be needed here as they would be for birdwatching anywhere else. Bring a spotting scope (or better yet a friend with one!) for even better coverage and viewing. Saying that, many Shollenberger Park birds allow very close viewing as they have adjusted to many people using the main trail around the ponds. This is a great location for close up bird photography.
Shollenberger Park in Petaluma is easily accessed via Lakeville Highway about 1 mile east of Highway 101. For helpful maps and location information, visit Colin Talcroft's useful website on Sonoma County birding.
- Go to the index of Sonoma birding sites or our Birding Sites Homepage -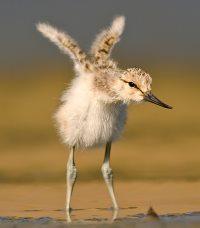 Go soon to see ducklings and young birds of many species, such as this American Avocet chick. Photo by Howler-Cat.