Book Reviews: Natural History
For ease of browsing, we've divided our book reviews into two sections. Below, you'll find various books about birds' life history and ecology, as well as books on plants and general natural history. To read our reviews of field guides to birds (books specifically for identifying birds), visit our Book Reviews: Field Guides to Birds.
Natural History Book Reviews

#1: A selection from William Leon Dawson's 1923 Birds of California, Dawson's Avian Kingdom
#2: Bernd Heinrich's engaging explanations of bird love and reproductive behavior, The Nesting Season
#3: Bay Nature magazine, the best periodical for local bird lovers
#4: Two books on California trees from the independent Cachuma Press
#5: Sibley's compact introduction to birdwatching skills, Birding Basics
#6: David Lukas' new field guide companion, Bay Area Birds.
#7: The now classic, but digitally revived Marin County Breeding Bird Atlas
#8: A new guide to local wildflowers
#9: Our new folding guide to Bay Area trees. We wrote it, so it must be good.
5/19/16: Folding Pocket Guide to Bay Area Trees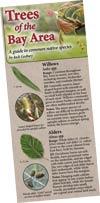 Trees of the Bay Area: A Guide to Common Native Species by Jack Gedney, co-owner of Wild Birds Unlimited of Marin
We sell hundreds of folding pocket guides to local birds, flowers, and butterflies every year because these regionally-tailored guides are simply the easiest way to learn: by trimming down the number of species to the ones you will actually see here, you can usually find a visual match in a few seconds, something that is not easily done with a full size book containing many hundreds of entries. And superficially similar but superfluous listings of lookalike birds/flowers/butterflies found only in other regions are not only extra clutter to wade through, but are often ripe areas for misidentification. A guide that leaves you mystified is bad enough, but worse is one that teaches you the wrong name!

With this philosophy in mind, a gap in the available guides became very evident: there was no guide to local trees. Often more regionally limited than birds, it's difficult to put together a pamphlet of 60–80 species that are common throughout "Northern California," for instance. The trees in the North Coast are different than the trees in the Sierra Nevada and both are different than the trees in the Bay Area. And some trees are difficult to distinguish with a glance at a drawing of a leaf, since many leaves, taken in isolation, appear superficially similar compared to colorful birds. So, I decided that the best way to resolve these difficulties was to make my own guide to trees, streamlined to some 25 common Bay Area species (and there really aren't many more native tree species than that which could be considered common in our area) and supplemented by a truly local text that tells you where a given tree grows and the best way to distinguish it from similar local species.

So, what's the finished product? A laminated folding pamphlet with four pocket-width panels depicting or describing a few more than 25 native tree species (depending how you count them – a few are not illustrated separately). You can take it to any open space preserve in Marin and quickly identify almost every wild-growing tree you see. Most species are illustrated by digitally clarified leaf photos (our most instinctive way of identifying a new tree), with many having additional photographs to show other distinctive features like cones, bark, or flowers. The brief text will tell you the most useful clues for identification, where in the Bay Area a tree is or is not found, and a few other tidbits that I hope will encourage an understanding of each tree's ecological niche and an appreciation of its unique character.

- Go to the index of book reviews -

3/14/14: Folding Pocket Guide to Bay Area Wildflowers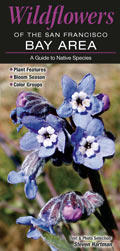 Wildflowers of the San Francisco Bay Area: A Guide to Native Species
Steven Hartman
I love simple fold-out field guides. By limiting the number of entries from the many hundreds found in larger guides to just those found in a small, localized region, our instinctive method of visually searching for the flower/bird/butterfly/tree that we see in the field can be quick and accurate. This new guide is a laminated photographic guide to our local wildflowers, composed of six folding, pocket-width panels. Good introductory guides to local wildflowers are surprisingly difficult to find, and this is one of the better ones we've seen, covering most of our common species with recognizable photos and concise text. It is limited in scope and comprehensiveness, omitting abundant non-natives (sorry weedy thistles, European vetches, etc.) and extra species within a given genus (Ground Iris is included but not the similar Douglas Iris, only two lupine species are given, etc.). Such is the price of compactness. Helpful, roughly accurate months of flowering are given and the organization by color is effective for this type of simple guide. The timing is perfect—pick one up and get acquainted with the common colors of early spring: milkmaids and buttercups, blue dicks and shooting stars.

- Go to the index of book reviews -

4/19/13: Marin County Breeding Bird Atlas
Out of print; available as free download for e-readers and pdf at the Internet Archive.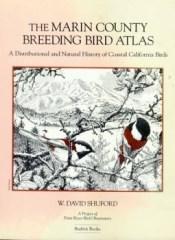 Completed in 1993 and now out of print, The Marin County Breeding Bird Atlas has recently been made available as a free download from the Internet Archive in pdf and multiple e-reader formats. Compiled under the leadership of Dave Shuford over a decade plus span, the Breeding Bird Atlas broke new ground as the first work of its kind in the West. It has since been taken as a model for similar countywide atlas projects around the Bay Area. The basic task expected of a Breeding Bird Atlas is to systematically search for nesting birds throughout a given area; in Bay Area county projects this generally involves the creation of a grid with individual grid squares assigned to dedicated volunteer observers who monitor their area for indications of breeding birds, resulting in the ultimate creation of a comprehensive map.
The value of the Marin Atlas, however, goes beyond that of the maps in its detailed species-by-species accounts of the ecological requirements and population trends of each breeding bird. These summaries are superb introductions to the general natural history of these birds, with insights into habitat preferences, foraging needs, and nesting behavior which apply beyond the borders of Marin. The combination of reference to the existing scientific literature with the extensive personal knowledge of the author and the Marin birding community makes for species portraits which are both authoritative and vivid. Of an equal quality are Shuford's opening chapters, which offer as good of an introduction to the natural history of Marin as can be found anywhere, reviewing our varied plant communities and the influences of topography, climate, and human land use in a synthesis that reveals not just the birder, but the naturalist.
- Go to the index of book reviews -
11/18/12: Bay Area Birds by David Lukas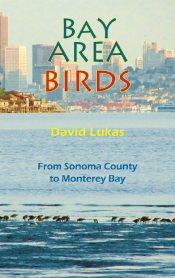 This new book from California naturalist and sometime Marin resident David Lukas contains brief accounts of the natural history and Bay Area range of 221 of our most characteristic bird species, with more abbreviated treatment for an additional 99, less common species. Bay Area Birds is not a field guide—it contains no illustrations save a single opening map—but rather a field guide companion somewhat in the vein of Pete Dunne's Essential Field Guide Companion or Kenn Kaufman's Lives of North American Birds. This genre of books does not focus on identification of birds, but rather on the finer aspects of their life history, behavior, preferred habitat and other information which can tangentially help cement your recognition of newly identified birds, but is even more valuable for enriching your understanding of the birds which you see repeatedly and wish to know better.
Bay Area Birds has a massive advantage for us in comparison to Dunne and Kaufman's more comprehensive tomes in that it is so locally focused. (On the most basic level, it is a great deal smaller and therefore more holdable than those books—a nice compact novel-ish size.) Many authors of field guides and works on natural history are, as experts in their fields, drawn to dwell on the arcana which are absorbing to other specialists and passionate amateurs, but which are not particularly enlightening to a majority of average readers. Appropriate scope enhances the usability of a work; that is the case here. Anyone who's begun to know their common neighborhood birds will be able to find them in here, not too lost in the diversity of our local birdlife, and from those signposts of familiarity can began to explore outwards among a strongly representative sample of Bay Area birds. The limited geographic scale of the book means that fairly specific information on where and when to look for particular species can be given. This is probably one of the most useful functions of this book, as a reader interested in locating a particular species can look up preferred habitats, Bay Area hotspots for birds of limited distribution, and arrival and departure dates for migratory species.
So what kind of information exactly is contained in these species accounts? Usually averaging around a page and a half, the content will vary somewhat based on the nature of the bird described; locally uncommon or threatened birds, for example, might have information on where exactly breeding populations are located or how various threats have contributed to population declines. Some frequently covered topics, however, include habitat preference (Steller's Jays are found in moist forests), interspecies interactions (they are dominated by scrub-jays when the two species overlap), feeding (they are omnivores who eat acorns which they may bury or cache in bark crevices, as well as conifer seeds, berries, and insects), territoriality (they defend their nest area and behave thus in moments of aggression), and breeding behavior and schedules (courtship happens in these months, nests are built in this month from these materials, eggs hatch after so many days, and juveniles leave their parents by this time). Lukas assembles valuable information from a wide range of sources and local experts but manages to retain his own colloquial style, in which newly fledged Bushtit chicks "hang out" with other fledglings from their flock ("associate with" or "forage in company with" are for squares) and juvenile jays join "feathered gangs" who maraud through residential neighborhoods. Such accounts convey a great deal of information, certainly, but they also have that air of pleasant familiarity with birds which summons up friendly conversations in the wild bird store rather than the sober reading of encyclopedic reference works.
We also carry David's Sierra Nevada Birds, a similar work for the Sierras.
- Go to the index of book reviews -

9/19/12: Sibley's Birding Basics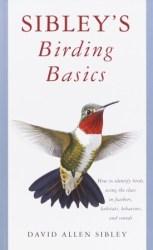 Shortly after the publication of the landmark Sibley Guide to Birds, David Allen Sibley also authored a much slimmer volume: Sibley's Birding Basics. Sibley's decades of study and preparation enabled him to illustrate all the birds of North America with unmatched comprehensiveness, but they also gave him a wealth of practical experience which he has distilled into these compact 150 pages—complete, of course, with exceptionally illuminating illustrations.
Birdwatching, in its most essential form, is not complicated. There are few rules to watching birds and little special equipment is required. You can begin enjoying birds without formal knowledge of any kind. What Sibley begins his book by presenting, however, is a series of precepts which will greatly accelerate how quickly one learns to identify and observe birds. This is not flashy wisdom, but it is extremely useful. For example:
Don't stop watching birds after you have identified them. Look for as many different field marks as you can see. Observe what is visible at different distances and consider how you could identify the bird with the information available to you.

Accept that you can't identify all birds that you see, especially species with which you are unfamiliar. There is nothing to be gained by convincing yourself of having seen a particular species.

Move quietly and listen closely. While your movements or conversation may or may not be affecting bird behavior, a few moments of patient stillness will often reveal more birds that many miles of unobservant hiking. If you stop and wait, you will see and hear more birds.

Take notes. The process of rendering what you see into words will help you learn and remember details (sketching—as perhaps one might expect from Sibley—is even better). Keep a journal—even a simple list of species seen will help you learn what birds are in an area and encourage your search for new birds.
There is advice for birders, but the book also contains a great deal of concrete information about birds. Sibley how explains how birds are named and the basic principles of taxonomy, how observation of bird behavior can distinguish between species, how to learn bird songs and vocalizations, and how to navigate the different feather groups and parts of birds. All of these areas are covered succinctly and with focus: Birding Basics is not a textbook of ornithology, but rather an approachable introduction to the watching and enjoyment of birds.
- Go to the index of book reviews -
9/12/11: Two Books on California Trees from Cachuma Press
Cachuma Press is an excellent independent California publisher who has produced several fine books on natural history and gardening in the west. This double book review will focus on two of their titles which we are excited to now be carrying.
Conifers of California

California is a conifer paradise. We are home to the tallest tree in the world, the tallest pine, the most massive tree, the longest living tree, and more conifer species (52) than any other state. Our nearest competitor, Oregon, hosts a mere 32 species. We hold 10 of the country's 11 cypresses and 7 of its 9 firs. We are, in short, one of the few states capable of producing a book as beautiful as Cachuma Press' Conifers of California.
The book contains clear and succinct overviews of general conifer natural history and family/genus overviews, but its main bulk is contained in the species accounts, each of which occupies around four or five pages. Every tree is given a full page watercolor illustration of a cone, needles, cone scales, and seeds, most from the brush of E.O. Murman, an under-recognized Russian-American botanical artist who painted these pictures between 1940 and his death in 1962. These paintings are perhaps the most distinguishing feature of the book, printed in high quality reproductions which evoke books on art rather than typical field guides.
More commonly found in elegant tree books are stately photographs, which Conifers of California certainly does not lack. The text is written in a clear and engaging style, dealing with natural history, the tree's relations with man (discovery, utility, naming), and identification (divided into helpful "at a distance," "standing beneath it," and "in the hand"). Being a California only book, range maps and explanation of distributions are far more useful than most tree books and are useful both in identification of unknown trees and for inspiring armchair dreams of future forest expeditions.
Coast Redwood: A Natural and Cultural History
Our most renowned tree, Coast Redwood certainly deserves its own book. Already fascinating by virtue of their biology, redwoods have had a tumultuous relation with humans which offers plenty of material for discussion. In-depth coverage of the life cycle of a redwood and an overview of other plants and wildlife (including birds!) who make their home in the redwood forest make up the first half of the book. Faithfully following the promise of the subtitle, the second half tells the story of redwoods and people, from the canoe-building Native Americans to the house/railroad/everything-building United States of Americans to modern conservation movements that lead to the creation of Big Basin State Park, Muir Woods, and Redwood National Park.
- Go to the index of book reviews -
8/13/11:

Bay Nature Magazine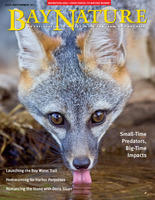 While not technically a book, Bay Nature quarterlymagazine deserves its place among our reviews of longer length collections of words and pictures. While there are several birding-specific magazines, none features the same level of high-quality, non-gimmicky, non-commercial content of Bay Nature. Contributors such as John Muir Laws, author and illustrator of the much-loved Laws Guide to the Sierra Nevada, provide a steady flow of bird content, making this our pick for the best periodical for local bird lovers.
Originally founded a little over 10 years ago as an offshoot of the nonprofit Heyday Books, and now published by its own nonprofit Bay Nature Institute, Bay Nature is supported by funding from a variety of sources, including many conservation groups and public agencies. As a result, they're not slaves to advertising revenues and can write about low-glamour, but highly worthy subjects. (That being said, income from magazine sales is certainly much appreciated.)
Articles are written in a manner that is both substantive and readable by non-specialists, always emphasizing opportunities for the public to get outside and see the wildlife in question. Some recent subjects include:
- The impact of wild pigs and turkeys on native plants and animals
- Badger conservation in Sonoma
- Restoration of bay subtidal areas
- Gulls of the Bay, with illustrated guide to local gulls by John Muir Laws
The most recent issue's cover story is on medium sized predators of the Bay Area: skunks, raccoons, opossums, foxes, coyotes, badgers, feral cats, and others. Many are abundant, even in relatively developed areas, but even these are often under-recognized. Some, such as raccoons and feral cats, are not infrequent visitors to bird feeding stations, while many others of these mesopredators prey on birds or bird eggs.
In addition to such general education articles, Bay Nature also places an emphasis on ongoing science and trends in local wildlife populations. Often this takes the form of conservation or restoration efforts attempting to remedy dangerous declines, but one of the main articles in this quarter's magazine discusses the recent return of harbor porpoises to the Bay. With a variety of speculated causes for the increased amount of porpoise sightings in recent years, the article both informs about ongoing research into the status of our local porpoises and encourages everyone to get out and see an animal which has been difficult to observe locally until recently.
Teaching us how to see something which was previously invisible to us is perhaps the most important gift of good nature writing—a gift which Bay Nature delivers.
- Go to the index of book reviews -
2/06/11:

The Nesting Season

by Bernd Heinrich
Bernd Heinrich is well-known for his engagingly written, scientifically reliable, but non-specialist readable books on nature, insects, and birds. His latest book, The Nesting Season, tackles one of the most interesting topics in avian life: reproductive behavior. The "nesting season" is a much more elegant title than "reproductive behavior," and its poetic generalness is necessary when one considers how much of bird behavior is linked to reproduction: "their varied and colorful plumages, their songs and spectacular displays, the varied sex roles and cooperation among mates, monogamy, extra-pair copulations, polygyny and polyandry, various parenting roles, helpers at the nest, nest parasitism, predation and predator avoidance, infanticide, egg coloration, cognition, and deception of predators." Heinrich discusses all of these in a wonderfully readable, less than 300 page book.
One reason Heinrich is so fun to read is because of the wealth of personal experience he draws on: he demonstrates a wide knowledge of other relevant studies and often cites the work of other researchers, but many of his insights are based on his own observations in Maine and Vermont. The excitement with which he hunts down, observes, is made curious by, hypothesizes about, and (carefully and occasionally) experiments with the nests he finds in his own yard are an inspiration to any curious backyard birdwatcher to pay more attention to nests—and to put up a few more birdhouses.
The second reason this book is particularly fascinating is because Heinrich doesn't shy away from drawing connections between human love and bird love. He eloquently defends his approach:
...despite our own huge emphasis on feelings or emotions in trying to understand ourselves, the topic has been practically taboo in the considerations of other animals, for whom instead we categorically presume that we cannot know what they feel. However, a more conservative approach is that feelings of love and attachment, despite their imponderable qualities, are universal attributes of other vertebrate animals…Love is ultimately an adaptive physiological and psychological mechanism for promoting long-term attachment and commitment where it is required for successful reproduction.
Some may feel that attributing "love" to birds is an inaccurate anthropomorphism. But what Heinrich is really doing is attempting to view humans from a scientifically objective perspective that views love in terms of hormones and evolutionary value in increasing reproductive success. Heinrich doesn't belabor the point and he never loses his appreciative wonder for both human and avian behavior, but it does seem highly likely that both hormones and evolutionary value play a role in human behavior—as they do in birds. Heinrich's willingness to explore the grounds for emotional similarities between people and birds rests on his personal experience, familiar to all bird feeders, of birds eliciting emotional responses from humans: when we see a young California Quail, for example, running across the yard, we feel affection, and we would feel grief if he were lost to a predator. Empathy with birds is as real and valuable as empathy with dogs, a common human relationship which generally escapes censure from picky scientists.
Again though, this is the undercurrent, rather than the content of The Nesting Season. The great majority of the book deals with the parsing out of evolutionary explanations for various bird behaviors. For example, Heinrich explains how many aspects of Mourning Doves' nesting strategy combine for better predator avoidance: they have an almost invisible nest, their eggs don't need any camouflage because they are constantly covered by a parent, their small clutch size of two minimizes the need for several highly visible feeding visits by parents, and the chicks make no begging vocalizations. In contrast, most birds with open nests who don't constantly cover their eggs have generally developed egg camouflage coloring and birds with safe cavity nests, such as woodpeckers, will beg loudly and frequently. These kinds of explanations as to why different birds behave in different ways are fascinating and encourage us to look at birds more closely and search for explanations for the behavior we see. Why do different nests look so different? Why do some birds have larger clutches than others? Why are some eggs white and others patterned? Heinrich offers many answers, but more importantly teaches us to ask these questions and seek for answers ourselves.
So, as Valentine's Day approaches and you are bombarded with Rosetta Stone advertisements bearing slogans such as "Love is the only universal language," consider the potentially wider application of that sentiment. You may find that bird behavior is often more comprehensible that would initially appear, if one remembers that their motivation is in the end not so different from our own.
- Go to the index of book reviews -
1/09/11:

Dawson's Avian Kingdom
Brave elf o' the nodding plume! Is there a heart in California that loves you not? Or an ear that does not thrill anew when it hears your sturdy call? What can we do to repay the kindness of your daily cheer? What less, indeed, than to give you the freedom of our premises, to let you glean for us a thousand seeded evils, and to let you parade, uncoveted, your saucy beauty?
-William Leon Dawson on the California Quail
Published in 2007 by the good people at Heyday Books (a non-profit publisher in Berkeley specializing in California history, culture, and nature), Dawson's Avian Kingdom is actually a selection from The Birds of California, written by William Leon Dawson and published in 1923. The original three-volume, 580 species epic has here been trimmed to around 275 pages covering some 150 species. Each bird is given a few pages of non-technical, often whimsical, frequently impassioned description, replete with exciting or amusing anecdotes from the field. Dawson's writings have languished in out-of-print obscurity for much of the intervening 84 years since initial publication--sadly, but perhaps not surprisingly, given his penchant for affectionate anthropomorphisms and flowery prose, both highly out of favor among today's ornithologists and nature writers. But is exuberant sincerity really a crime?
Despite the occasional tenuous anthropomorphic claim, Dawson clearly possesses a huge knowledge and personal experience of California birds. The liberal application of terms such as "brave," "kindness," "cheer," and "saucy" (found in the passage above) certainly describes Dawson's perception of quails, rather than any emotions or attitudes of the quails themselves. Such boldly and subjectively interpretive language has been largely outlawed from modern field guides. But what California heart doesn't love the "brave elf o' the nodding plume" precisely for his impression of sturdy cheerfulness and saucy plumage? Dawson is quite aware of and freely admits the instances when he departs from scientific accuracy in order to pursue the separate, but not inferior, topic of human affection for birds.
Homely Apollo, historian of the chaparral, poet of the common weed, apostle of dewy morn, mediator of sun and shadow, woodland recluse, and shy intimate of back-yard tryst, minstrel alike of blue-gray-green spring and dun summer, brown wraith of California, thou dost work alike havoc in our gardens, harmony in our ears, and a heavenly hubbub in our hearts. Would, oh, would that there were more of thee, and more beautiful and more constant.
-Dawson on the California Thrasher
Dawson's style is admittedly not for everyone. But if the phrases "homely Apollo," "historian of the chaparral," or "poet of the common weed" ever find their way into your mind upon your next encounter with a thrasher, stop and consider what harm such pleasant verbosity could possibly do. The answer, I believe, is very little. Good writing about birds encourages watching birds attentively and seeking to understand their behavior, and Dawson excels at this task. Affection is the first step towards learning and conservation.
- Go to the index of book reviews -