December Nature News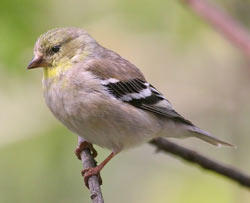 American goldfinch in winter plumage
December and January are the real winter months in our area in respect to bird migration and seasonal behavior. The winter birds are here, the summer birds are gone, and nesting and territorial behavior are at a minimum (several songbird species will start warming up for nesting in February—put up birdhouses before then). But that doesn't mean that the bird world is quiet—far from it! In the mild climate of coastal California, bird diversity increases overall in the winter compared to the summer with the influx of many migratory shorebird, waterfowl, raptor, and songbird species. Native plants produce fruits, seeds, or in some cases flowers at this time of year, providing both direct food for birds and sustenance for the hardier insects which make up the prey of other bird species, while local ponds and marshes provide open water for waterbirds who have travelled south from the frozen north.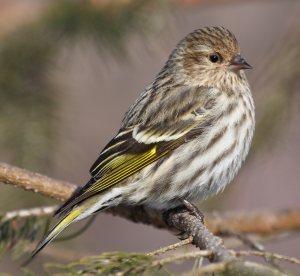 Pine Siskin
Among songbirds, the most obvious of our winter residents are white-crowned and golden crowned sparrows, which can be seen in practically every yard scratching around for seeds on the ground near feeding stations. More wooded areas host fox sparrows and wetland areas welcome Lincoln's sparrows and additional song sparrows joining the resident population. Although our region offers enough natural food to support the sparrows, juncos, and additional migrant finches in winter, it is still true that temperatures are cooler, food less abundant, and daylight feeding hours fewer than in spring and summer, causing most birds to spend more time at feeding stations at this time of year. This is particularly notable among goldfinches, whose activity at feeders has spiked dramatically upwards in recent weeks following the slow season of summer and early fall. This winter, goldfinches are being joined at local sunflower and Nyjer feeders by pine siskins, a small and streaky northern finch that migrates south in variable numbers from year to year. You can recognize siskins by the subtle yellow highlights in their wings and tail; otherwise, they look somewhat like a smaller, thinner-billed female house finch—brown and streaky. While it's a pleasure to see new birds in our yards, be aware that these flocks of tired and hungry siskins are vulnerable to infection by salmonella bacteria: if you see birds that are acting lethargic and fail to flee from people or other threats, you may need to clean your seed feeder and take it down temporarily. For more information on salmonella and how to respond if you see sick birds, see our Bird Disease article.
Meanwhile, insect-eating birds like Townsend's warblers, yellow-rumped warblers, ruby-crowned kinglets, and hermit thrushes can be seen foraging in trees or sometimes visiting feeders for suet or mealworms. With the relative scarcity of insects in winter, now is the best time of year for offering these foods to both these migrant birds and to resident insect-eaters like bushtits and woodpeckers. Meanwhile, berry-producing plants like toyon, pyracantha, Chinese pistache, and others attract flocks of robins and cedar waxwings. While these last birds don't really visit feeders, they are quite common in many residential areas—keep an eye on those fruiting trees!

Townsend's Warbler by Elyse Omernick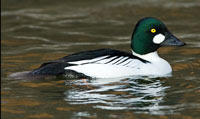 Common Goldeneye (see Bahia)
Waterfowl numbers are now peaking, both in our local bodies of water and in the large preserves of the Sacramento Valley (worth a trip to see snow geese, tundra swans, sandhill cranes, and more). Visit local ponds like Las Gallinas in San Rafael, Shollenberger Park in Petaluma, or the Bahia Lagoon in Novato to see a variety of duck species, including northern pintail, canvasback, green-winged teal, American wigeon, ruddy duck, bufflehead, common goldeneye and more. Tidal mudflats like those found right here in Novato at Rush Creek or Hamilton host ducks in deeper water and a wide variety of wintering shorebirds in the shallows and exposed mud, like godwits, curlews, dunlins, sandpipers, yellowlegs, avocets, stilts, and willets. The open areas around these habitats are often good hunting grounds for raptors, whose populations also swell in winter, with increased numbers of red-tailed hawks, northern harriers, and kestrels as well as the arrival of winter merlins, peregrine falcons, and ferruginous hawks. Around your yard, you may also notice the increased presence of Cooper's hawks and their smaller migratory cousin the sharp-shinned hawk.
December is also notable for being the month of Christmas Bird Counts, an Audubon Society tradition that has been practiced for over 100 years, making it the longest-running citizen science project in the world. We have three counts in Marin (North Marin's "Cheep Thrills," Southern Marin, and Point Reyes) as well as several counts in Sonoma County and around the Bay Area. Small groups of birders will spread out around the count area, with less experienced participants matched with those with more expertise. This is a great way to meet local birders and gain a better appreciation of the local bird diversity. You can also submit counts from your backyard feeder station if your home falls within one of the count areas. See the websites of Marin Audubon or Sonoma's Madrone Audubon for more information on how to participate.