Upcoming Events
Each month we host free local bird walks and talks on natural history subjects in our Novato store. Check back regularly for details on additional events, or visit our Nature in Novato blog for our full listing of current nature walks and other events hosted by ourselves and other local organizations.
Raptor Seminar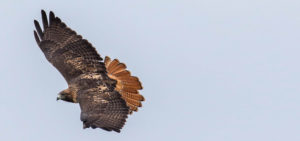 January 6, 2019 @ 10:00 am to 10:45 am at Wild Birds Unlimited
Winter is hawk season! The current season hosts our highest numbers and diversity of raptors, with many hawks and falcons becoming more abundant with the addition of northern migrants to our resident populations. In this in-store presentation, we'll give a tour of essentially all our local raptors: 18 species of hawk, falcon, eagle, and other daytime birds of prey. We'll teach you how to identify the familiar species with confidence and where to find the less common birds. We'll also take a brief look at a few of our most notable owl species, including identification by ear.
Header photo: Red-tailed Hawk by Don Bartling
See more details and reserve your space by visiting the event page now.
Bahia Lagoon Bird Walk

January 13, 2019 @ 1:30 pm to 4:00 pm at Bahia Lagoon
Join guest leader Heather Cameron and Jack from Wild Birds Unlimited for this walk at the Bahia Lagoon in northern Novato. This pond near the mouth of the Petaluma River is a local hotspot for common goldeneye (with a few of the less common Barrow's goldeneye often present), as well as other diving ducks and grebes, raptors including kestrels, kites, and harriers, and a variety of other wetland and open country songbirds including song and Savannah sparrows, Say's phoebes, and western meadowlarks. After observing the water birds for an hour and a half or so, we will briefly adjourn to the very nearby Bahia trailhead of the Rush Creek Open Space Preserve, from where we can see some different ducks and shorebirds on the tidal mudflats as well as woodland songbirds for our remaining hour.
Header photo: common goldeneye by zenbikescience.
See more details and reserve your space by visiting the event page now.